So-frita Excited
Mains
Serves 4 | Total time: 1 Hour
Keeps in fridge for 1 Week

Ingredients
1 block extra firm tofu
4 tablespoons olive oil
½ white onion diced
1 green bell pepper diced
½ cup diced cilantro
3 minced cloves of garlic
1 tablespoon ground coriander
1 tablespoon ground cumin
1 tablespoon ground turmeric
1 tablespoon garlic powder
1 tablespoon salt
1 15 oz tomato sauce can
2 tablespoons adobo sauce


Method
Press your tofu to remove excess moisture.

Crumble tofu and fry in a pan with 2 tablespoons of olive oil over medium high heat for 5-8 minutes. Set tofu aside.

Add remaining 2 tablespoons of oil to the pan.

Add onion and green bell pepper to the pan and saute until both soften, about 10 minutes. Stir frequently.

Add cilantro and garlic cloves, saute for 1 minute.

Add seasonings and sauces to the pan and cook for five minutes.

Add tofu back to the pan with sauce and stir until tofu is well incorporated.

Use sofritas in tacos, burritos, burrito bowls, whatever your heart desires.
Greer and I had the best holiday season 2020 could provide.
A lot of it was filled with cooking new recipes in addition to new trying some new beers to pair with our meals. When you receive a
beer advent calendar
for the holiday's you're not going to NOT induldge. How else can you make it through 2020? Alas, we wanted to start the new year strong and decided to do a five day juice cleanse.
Squeezed
is a juice cleanse company based in Texas with various locations nationwide. Thankfully, they have a location right in Chicago that's been our primary juice vendor. It's an awesome service that makes the whole cleanse as easy as it can possibly be. We previously did a 'beginner friendly' Squeezed cleanse last year and absolutely loved it. We had amazing energy, slept like rocks, and really cleared out those pipes. The whole experience made us eager to do another. For 2021, we upped the ante. This time we decided to do the full veggie super squeezed.
Now I'm going to be completely honest with y'all. This one was HARD. It could've been the post holiday detox, the new year blues (what have you) but instead of feeling energetic and incredible, we felt unsatisfied and stir crazy. I'm so proud of the fact that we stuck to it and completed the five days but holy smokes. It will be awhile until I think about completing another one.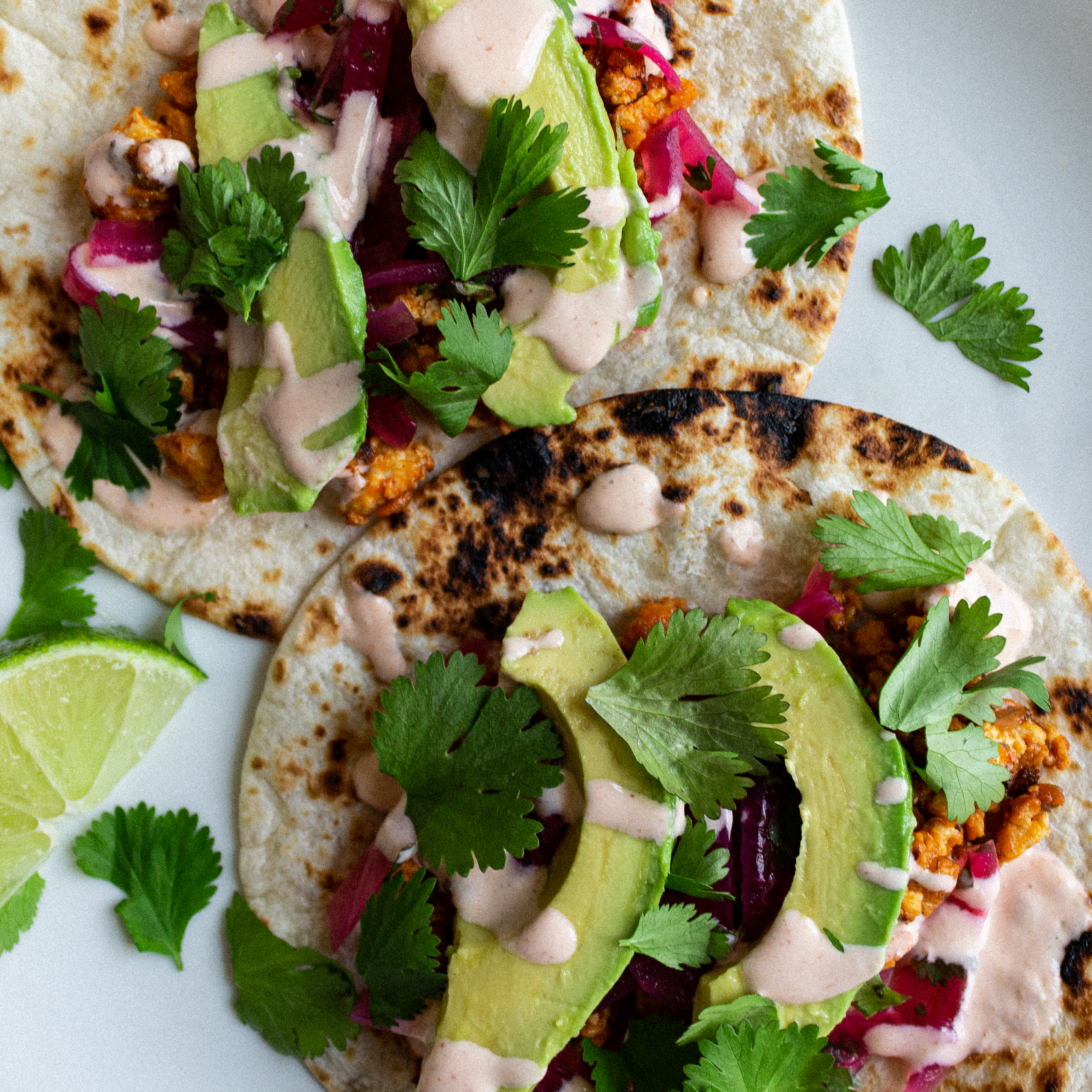 The point of me telling you all this is because during the cleanse, Greer and I craved Chipotle like no other. I wanted a burrito bowl and a Diet Coke more than you can believe. We thought about eating it as soon as the cleanse was over, but thinking about how Chipotle behaves in the human body made me a little weary to jump back on that horse post cleanse. So instead I made my own version of their Sofritas. These go great in tacos, burritos, burrito bowls etc. while saving you money and bathroom time. I hope you enjoy them as much as we do, I crave them even when I'm not cleansing and you will too.